Lee Holland Stages Rally – 20th March Trac Mon Anglesey
Neil Andrews and Mark Broadbent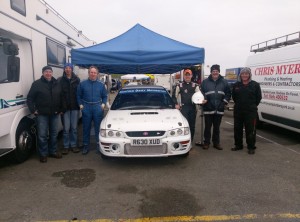 It might be nearly Easter but for some of us it's the start of the motorsport year. Having recovered from the financial hammering of the Mull Rally last October – the most expensive rally per competitive mile I have ever completed, it was time to blow the dust of the Scooby doo!!!.
Finding quality tarmac events is becoming a challenge, so a trip to Anglesey was the chosen event to get things moving. Malcolm had picked the car up last week. Although there wasn't much to do he did need to "road test" to make sure it was safe for me to drive. Having spanner checked and fitted new seat belts, as well as tweeking the clutch pedal it was ready to roll (the wheels – not the car. Been there – done that – EXPENSIVE!!)
The usual suspects gathered at White Windows Farm for fish butties before setting off for the mammoth westerly trek – I didn't realise how far west Anglesey is!! 160 miles later we arrive – just 10 minutes before our scheduled time for scrutineering. Perfect, so I thought – then I saw the queue!! Noise check – no problem – 96dba as usual. Then join the queue – over an hour later we get to the front of the queue, and its all completed without any fuss. New helmet stickered up, documentation complete and its back to the camper and get on with dinner.
A glass or two of red wine pre-dinner to get the palate working then it's the customary 3 course dinner, with fillet or rib-eye steaks followed by apple pie and custard. Malcolm and Paul having the lions' share of the brandy – as could be seen both Saturday night and again on Monday morning!!!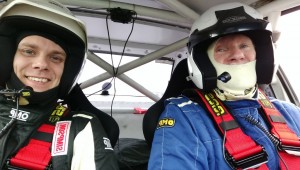 Sunday morning was dry and chilly – the first cars to start were the Juniors. Worth a watch – oh what it is to be young and fearless – even though they only have 1000cc. Then it was time for the big boys – I must say most of the cars were out and out tarmac spec vehicles – not too sure if they would make it round Mull but on the circuit they are awesome. Made our multi-purpose Scooby a bit out classed. As we lined up for the first stage Mark decided a pre-rally selfie was called for. Not usually high on my "to do" list, but "click" and there it was. The lights turn green and off we go – a long left hander out of the pits and into a merge leads up to a long open hairpin. Just how hard can you push with cold brakes and tyres!!! Getting the feel of the car on a race track after not having driven it for the best part of 6 months was amazing.
The rest of the day ran smoothly, until stage 5 when we had a bit of an indiscretion, a half spin on a hairpin concentrated one's mind, and similar event on stage 6. Mmm – the car wasn't feeling quite as sure footed coming out of the corners. Back at service we found the centre diff wasn't locking. Malcolm with his trusty test light identified a faulty switch – this was quickly replaced and we were fully functional again. Although a K left on stage 7 caught us out – this time a full 360 in front of a camera – just my luck!!
Stage 8 was a re-run of 7 – this time got it right and finish 32 O/A – beating our seeding and some very well set-up cars.
Many thanks to Malcolm for turning out a very well polished car. Paul, Mike and Dave – all of whom helped with drinking, eating and cooking throughout the weekend. And Mark for having the b**ls to site in the hot seat.
Would I do this event again – possibly not. The circuit is very abrasive, tyre wear was high, even though it wasn't a hot day. It's a long way to travel and you do need an out and out race car to be competitive. Scrutineering was very slow and some very long gaps between stages. On the plus side, the stages were very testing and certainly kept Mark on his toes – lots of splits and merges. A very good venue if you are closer to it.
Roll on summer – Otterburn and Warcop beckon!!!!!!!!!!!