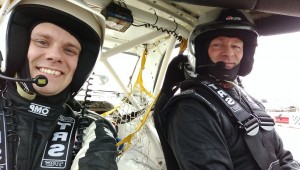 Lookout Stages and the Melbourne venue have always been a favourite of Terry Pressdee and Mark Broadbent's and this year was no different. Before the year started the three events at Elvington had been earmarked as 'must dos' and although it is easy to say now, Terry said even then that we were going there to win this year, so I had better hold on for the ride!
Terry's Subaru Impreza was still going with some minor adjustments to when it was last out at the Epynt Stages… a longer and stronger handbrake lever was fitted to get round those hairpin bends which are sometimes difficult and most notably, it was now sporting an all white livery after running black and orange squares for the last few years… it looked like a totally new car apart from the scratches and dents it has accumulated over the various rallies!
The days before were spent sorting out tyres and what we were going use and prepping ourselves to challenge for the win. Noticeably Alex Taylor and his Forester was not on the entry list along with some other top drivers, however there was certainly a lot to keep us on our toes, Simon Belcher in his Impreza knows the venue well and is always a front runner along with Dave Longfellow running his very rapid Impreza, again knowing the venue better than Terry and myself.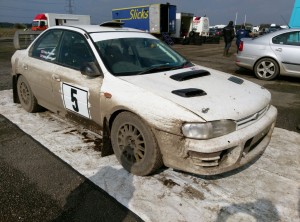 Sunday morning dawned, the car already gone through scrutineering with no issues and I was busy talking through the maps with Terry. The track was very wet and rough… certainly the worst conditions I had seen thanks to the rain from the precious two days. Running in as car 5 meant we would be one of the cars clearing the water and messy stuff off the line for the cars behind… although they say car 5 in the WRC has the best conditions!
First stage and we were quick, despite the water (which we noted!) and the slippy conditions we made the second best time, six seconds behind Belcher. That didn't tell the entire story however! Coming up the main straight, Terry was flat out in top gear when the car fish tailed on mud and we were a 120mph missile heading from one side of the trace to another! After collecting half a dozen cones and all kinds of other debris (I am sure I saw a wing mirror fly up somewhere!) Terry did an excellent job of collecting it up just before the braking zone and driving round the hairpin right. Well… I thought it was an excellent piece of driving but Terry admits it was more good fortune! We will say it was exceptionally beautiful driving skills for the purpose of this piece!
Through the first of three tight chicanes no problem but then late braking and slippy mud meant we nuged a earth mound and had to reverse losing around ten seconds. After that the rest of the stage went well so only six seconds down meant we were pleased!
Talking with Longfellow and Danny Ward and they had the same happen to them on the long straight so we were thankful we were not the only ones… although now they were only one second behind us in a rapid Subaru.
Stage two was the same as last, but we set a scratch time three seconds quicker than Belcher… only our second ever scratch time! We were very happy and getting a podium was a real possibility now that we learned Burgess had retired and would not be restarting.
The rest of the day was a little bit of a dream to be honest! Perfect driving meant we set fastest times on the next four stages and we had a 31 second gap back to Belcher in second, although Cook in the Escort was setting times very quick… amazing to think that car is an 'old' L reg! After every stage I was jumping out of the car, running down the length of the service area to check out the times of competitors.
It was a huge shame that Longfellow and Ward retired with power steering issues on stage 3… we overtook them on the first loop and were honestly really disappointed as we wanted a day of battling for positions with a crew we get on with really well.
Going into stage 7, we now focused on the win… up until that point we didn't even consider it as we were driving stage by stage. Now with a win as a certain possibility, the thinking was to drive accordingly, although someone didn't tell Terry! Car was good, Terry felt good but the time wasn't and we dropped nine seconds, our worst performance which sounds really bad! We still had time in the bag so no pressure and stage 8 was the last. However Terry blitzed the last stage… commuted as ever and taking more aggressive lines at every opportunity! The track getting drier meant he could push even harder each time!
We set our sixth scratch time and celebrated at the line when the Marshall at the stop control mouthed to me "two seconds faster"! I had been asking for times against Belcher all day and it had become a routine by now! They all laughed when I cheered and threw my hands on the air!
So that in a few words was how Terry and myself record our first win and we are proud to call ourselves rally winners… it might even go on my CV! Everything ran perfectly, the car, the one set of Kumho tyres we ran for the day, the weather and of course the event.
We have of course so many people to thank… Trackrod and the associated car clubs for organising a fantastic event which certainly challenged us this year. Without their repair work to the venue in horrible weather (we follow progress closely on their Facebook page) this event and others on the venue would quite simply not run. All the marshal's and officials on the day… being a previous marshal myself I know it is a long day no matter what the weather or where you are posted so to see so many marshals of all ages getting involved to run the event is fantastic to see. They are here for enthusiasm alone and it is easy to overlook that at times so we thank you massively!
Also our service crew who were 'borrowed' from Dave Longfellow and Danny Ward… always happy to pitch in when needed and help us out.
And not forgetting the other competitors… notable Simon Belcher with Peter Butler and Nick and Joe Cook who kept us honest all day. The times show we were quicker on six stages but I promise after sitting next to Terry, he was trying all day! Never coasted as we knew we had at least two very quick cars behind us ready to take first place away from us!
Next event for us is the John Overend Memorial Rally at the same venue on 15th May. Another first place would be nice although we expect some more tough competition to be with us again!
The car is also sticker free so a perfect opportunity for a person or company to get on board with a rally winning car and driver! Get in touch about potential opportunities!
Mark Broadbent