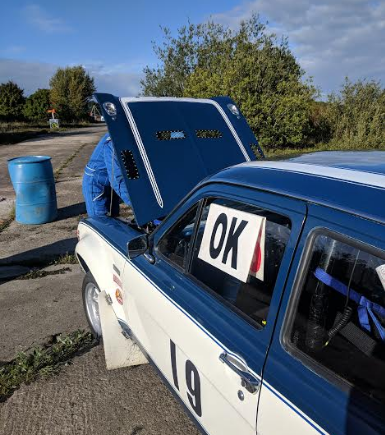 23rd September 2018 – Roy Wadsley and Mark Broadbent retired from the 6th running of the Heroes Stages Rally run once again at Weeton Army Camp. The true cause unknown right now, although officially the crew have retired with no oil pressure.
Weeton continues to be a tough venue for the clubman rally teams, featuring many square corners and the notorious kerbs which have caught many competitors out over the several years it has been used as a rally course. This year the weather was kind with a clear, bright day meaning the usual slippy corners were not too much of a concern, however standing water still present in some areas made sure competitors stayed alert.
For Roy and Mark, it was a return to the same rally they first teamed up at in 2015.  Back then they failed to finish as car 34 and the cruel luck seems to be continuing, now only one finish in four starts for the crew.
Stage one started early and unfortunately finished early. Two miles into the stage oil smoke came into the car and poured out of the engine bay. In order to get round the stage and hopefully get to service, the crew eased the car round but suspecting serious damage, decided to stop three miles in.
Mark Broadbent stated "Tough day today and shows how cruel the sport can be. Hopefully it won't be a complicated fix and the car can rally again this year"
Many congratulations to the overall and class winner today – they were rapid throughout the day and Weeton proved that it is still a challenging venue with only 23 crews taking the finish. Eric Roberts and Merfyn Williams are certainly worthy winners in their Ford Escort, leading by 46s at the finish. Although had it not been for an overshoot and in car sickness from Martin Farrar and Andy Ward in the Subaru Impreza, the result could of been different. Instead, it was Roberts' celebrating his first win of his career.
Roy and Mark could not of competed today without the fine work of the service crew – many thanks to Simon, Bill and Steve for all their help over the day.
Final thanks to Pendle District Motor Club and Garstang & Preston Motor Club for organising the rally.
Next event for Roy remains to be confirmed, although YUK will hopefully see another stage event soon, possibly as early as the Adgespeed Stages in October. For Mark, it is the Roberts Garages Jersey Rally 2018. Held on the island of Jersey, it will be the second time he has tackled the event with David Longfellow in the Subaru Impreza LX.
Mark Broadbent