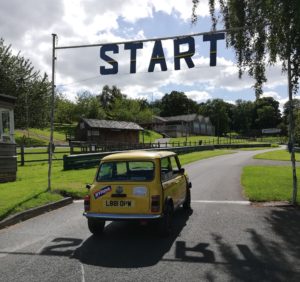 It's been a long time since I've done an event, let alone a write up, but after all this time stuck in the house with Covid 19 lock down and the effect it has had on the world let alone grassroots motor sport it was great to be up at 5:30 on a lovely sunny morning for the three and a half hour drive down to near Evesham to the headquarters of the Bugatti owners club, the Prescott Hill climb.
The event was really just for fun not forming part of a championship, more a test run for what trials could look like going forwards with the virus.The sections were scattered around the hill climb site making use of areas of the ground used by its normal visitors. Heading off into the trees and into long grass in places the organisers had found a good 6 hills for the 18 competitors to attempt.
The venue itself was very posh, especially for a trial….proper toilets being almost a first!! I grabbed a picture on the start line thinking it was going to be the closest I was ever likely to get to going up the hill climb itself!! To start with it was a bit of a maze but it soon made sense once you had been round once or twice.
After a socially distanced  drivers meeting we headed out to the hills, even though the sun was shining the ground was soaking wet. Class 2 which I run in started at hill 4, a down hill start into a long climb on some smooth short grass over a track and then into knee deep long grass…didn't fare so well on that stuff!! I stopped about where I thought I would around the 5 post,about average for the section and went round to the next section only to hear applause as a club man in a bog standard beige Nova cleared it…..that was worrying….had i lost my touch….
My next hill, 5 , went better, twisted though some trees and a long steady climb up to a clean section, happy with that.
Hill 6 right away from the tarmac of the hill climb, went up a farm track into a field, easy for a tractor not so easy in a Mini!! A long muddy uphill into wet grass, went well up here on round 1.
Hills 1 to 3 were on lovely smooth grass on the edges of the spectator areas, my Mini likes this type of climb and went well on these 3.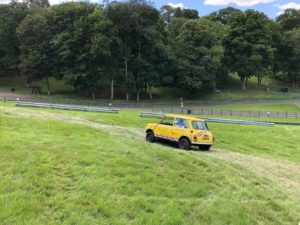 Round 2
The hills were moved a little, still well in the mix was very evident that all the months away form the sport i had become rusty, the car isn't forgiving at the best of times. I notice that i wasn't brave enough to let it really run slow, down to pinking, kept trying to save it from stalling….a lot of trialling is spent at very very low rev's.And my lines were definitely off. Positioning even a couple of corners ahead can make a difference to how far you get later.
After a short and well spaced out lunch we were back to it, an ex national champion had turned up and been "volunteered" to help adjust the sections, turned out i was leading the class which came as quite the surprise as i really didn't feel like i was driving well.
Round 3
This was really my undoing for the day, i miss a post that had moved opening up a better line which cost me about 3 points…bit annoying but only a few marks.The next section really finished me off, that long muddy climb on hill 6 which i did well on in the morning was now my undoing. As i set of i knew the grip wasn't good rather than gaining speed i was losing it by the time i got to the top i was lucky to of passed the 10 post but was in bad shape for the long climb up to the 7, sputtered out just before the 8 a huge loss as anyone who passed the 7 was pretty much on for a 4 or less.That reminded me of an old feeling…..disappointment…..hadn't felt that one in a while.
On to the next hill a whole new one they had put in with a steep bank in the middle around the 7 marker, normally the small light Mini does well on these, not today got stuck and haemorrhaged another large handful of marks to half the class, a well balanced hill more or less splitting the class of who made it and who didn't….normally i'm in the group that made it!!
From 1st to 3rd in class in 3 hills, dropping more marks on 3 hills then I had all event!!  To be honest I was a bit down at this point, not what I was looking for the first event back. Had all the work on the car been in vain the only thing left in the brakes from 2019 season was the pipes and 1 caliper, and the £210 lightweight battery i got for Christmas wasn't helping……and the .4 kg i saved putting an alloy wheel in the boot seemed a waste……sad face.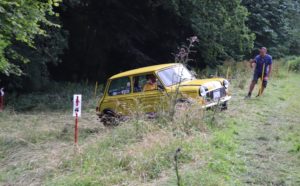 Not one to give up i sucked it up and headed off for round 4, at least it couldn't get too much worse. Tried a do or die line on the first hill I came to and did the dieing…but only a mark to try and get 3. The next was OK but onto my nemesis hill 6 and its long muddy climb… set off ..grip crap …managed to pick it up a bit in the middle just ,and only just made the turn at 7 then downhill and managed to get over the next notable hump at the 4 post and then scrabbled on for the clean….After that success I suddenly felt some confidence return, i got that feeling that had been missing all day back, me and the car were back as one….very hard to describe it you hear rally drivers talking about it, and yes you can get it on a car trial.You stop trying to drive the car a just react to what its telling you.
I romped my way though the last of the hills feeling on top of everything, dropping 5 less marks than the nearest to me and half as much as the rest of the class.What a contrast to round 3.
But the damage was done, such heavy losses on round 3 cost us the class win by 4 marks… and a BTRDA umbrella. But as a fun  and test day on reflection i was happy quite to be a long way ahead points wise from the tough national guys i compete against regularly.
It was great to be out again just to meet and chat with the like minded people and catch up.Hopefully the national trials organisers will be able to put on a few more events before the season draws to a close.
Rupert North