13th September – A view from class 2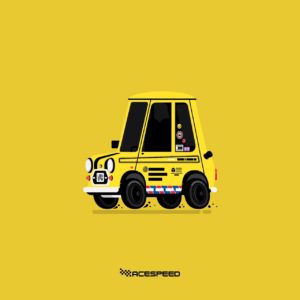 This event would normally be towards the end of the season but with the disruption caused by Covid it became the season opener. The venue is based near Bridgnorth which for me is down Birmingham way, most of the normal venues I know my way to now, but this one i have no idea……satnav's and  phone app's all seem to take me different routes all more or less the same arrival time so the route has never stuck in my head. This year I had a scenic route coming off the M6 fairly early and going down some A and B roads for 40 odd miles which is a bit more interesting than hauling down the boring motorways.
A good balanced entry for the trial, 8 in each class made it hard to predict a winner. Clever paper and contactless systems have quickly become normal in trialling, drive by signing on and no contact scoring all work well, and I think the verbal confirmation of your mark on the section works well, the marshal has a score sheet and you keep a record in the car with you which then you read out at a safe distance to the event secretary at the end of the round certainly keeps the event flowing nicely.
Wolverhampton motor club has a great venue for trials. It's nice and steep with a varied hillside which means the sections change in character quite a bit. From off camber climbs to long lumpy climbs and  short sharp finishes. Round 1 was kind to me. Somehow I lead the class by the giddy heights of 1…… a better start than normal…but the competition is hard in the Midlands, here i run into some very well prepared Saxo's which i would say are the benchmark for anything running in class 2.
By the start of the second round four of us were separated by  3 marks, one mistake and that would be the lead gone! and it didn't take long for me to drop a few. No big cock ups just getting nibbled at the ends of sections by a mark or two by the Saxo of Philip Buckle. Gary Preston in his Fiat 127 is where I set my sights for how I am going as we are normally fairly close in score but the car was coughing and spluttering and costing him points, but was now in a comfortable second in class 4 marks behind the Saxo and 10 plus clear of everyone else.
Lunch time and a chance to sit back and relax in the sun and scenery, everyone seemed to just be happy to be out, sat here writing this now the future looks unclear again with new lockdown measure and a rise in Covid cases I can't help wondering if this is going to be the shortest season ever. I hope we are able to keep going social distancing is so easy to do in a field.
Round 3, the hills get altered over the lunch break and the sun was drying the venue nicely, off we all head, normally I tend to go a bit better in the dry conditions but with the class order reversed and only two cars running in front of me i was starting to get some "greener" grass and a nasty lump on hill 6 hurt my score sheet, classic Mini's do lack suspension travel and fresh grass( yes I've all the excuses!!)  it just slowed me enough i couldn't recover, that cost me a 6 on a hill that if you got over it was more or less a clean ( 0 marks).That coupled with a bit of nibbling from the Saxo, those odd marks at the ends of sections, meant he had now pulled well away from me only dropping 4 to my 13, and some of the other were closing to with a good round from Alister Moffatt on 5, if i were to lose the same again that would be really bad!!
Round 4 went a lot better with the exception of hill 1 which had been set really hard only one front wheel drive car made the steep climb the Saxo…. another 7 marks lost to him. Now nearly all the following sections were cleanable to most people I lost another one to a steep climb though some stinging nettles but wasn't of consequence. The hump in hill 6 that cost me on round 3 was an easy clean once you flatten the fresh grass down.
My efforts for the day yielded me second in class 2, Phil Buckles unstoppable Saxo was first in class ahead of me by 21 marks by the end of the day 34 to my 55, quite the gap i can think of maybe 15 i reckon i could of got if i had been "better". Still trailing behind a bit. I tend to think the best you can do is win your class, after that first overall depends on how other people in your class have been doing behind you, I would of though he was on for first overall but turned out Dick Glossop in a Liege in class 3 was having a stonking day only dropping 14 all day nearly half as much as his nearest competition on 27.So he took first overall, congratulations to him, no easy wins at national level these days. Class 1 had seen it's early close battles succumb to Trevor Moffatts eventual dominance for the class win.
A most enjoyable day's sport once in the mix hoping to catch the car in front or keeping the folk behind at bay is when it starts to get more interesting, if I am missing out at the front of the class, I just have a battle with whoever is closest to me. I am happy enough with second in class and 6th overall. I try to look at any top 10 overall finish as a plus, nice to see new guy Peter Hilleard in 10th spot showing a bit of promise in a 106 diesel.
All in all a great day out went home a different route again to how I got there, got sent down what turned out to be a tiny country lane which isn't all that fun in a van towing a trailer.
Rupert North