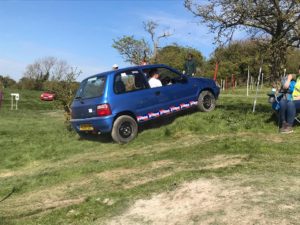 The yellow Mini I've been using since it was restored in 2003 made it first national  appearance  on a wet March or April on the Matthews Auto Salvage Trial on Anglesey after a three and a half hour drive, didn't do very well, but persiteded with it for the next 16 years peaking with the 2017 national championship win. but as time wears on as does technology and despite being really really small and having a torquey engine the lack of any notable suspension travel was meaning it was getting harder to make any progress to the front of the class positions and despite my best efforts was slowly getting left behind, unless it got tight and twisty on a dry day…wouldn't swap it for anything on a day like that!!
I had been musing about replacing it for a while, but fancied a different route to the Saxo VTS or the 1.6 Corsa route, the only other car I've used on a trail was a friends 1.1 Saxo. Have fun with the fa fa fa slots. I did a few practice events in it ahead of the last national trial of 2017 knowing full well the Mini would struggle at the venue and against the stiff "Midlands" based competition and made the swap into class 1.The 1.1 Saxo was more than capable car and I went on to win the event and the championship that day.
But Saxo's are a heavy little car as are Corsa B's which seem to be other popular choices at national level. So rather than follow the herd I always thought a 3 door Alto would be a good choice. Not the 4 door model which is 80 KG heavier on the rear end, might have a bit more power and torque but that's a lot of extra weight in the wrong place.At 705 KG it must be one of the lightest "modern" Class 1 cars about. And one morning I was sitting looking at EBay as you do and casually checked to see if there were any Alto's for sale…..there was and within 48 hours it was mine….which made my wife really happy!!
A 3 owner 1.0 Alto GL all the way from south london 245 miles away. 35 thousand miles on the clock and in pretty tidy condition for a 21 year old bargain bucket motor. After buying off a proper petrol head who was going to use it for the Mongel Rally in 2020 it did the journey from London to Bradford without complaint. A twist of fate with the Covid outbreak led me to this car.
The 2020 trials season finished and now I've all winter to sort the Alto out ready for the 2021 season. What started as a bit of a service and making sure its OK turned into almost a full restoration!! found a couple of bits of nasty rust here and there, so took all the interior out and dealt with all of it in one sitting. And it's now easier to list what hasn't been replaced than what has.Drives really well now, like a new car! Had to extend my tiny trailer as well. The wheelbase of the Alto is a little longer than the Mini.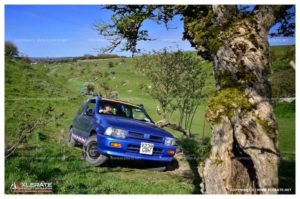 So after a few hundred hours of work and a "little" bit of money (that's what I told my wife!!) it was ready for its first event. Which came as the season opener down south of Milton Keynes the Ivinghoe trial. I had owned the car for 6 months but hardly driven it on the road let alone a trail and was very unfairlimer with it, and by little more than bad luck ended up being car 1 on the day.The event was 8 hills to be tackled 4 times and an oversubscribed with the enty capped at 50.
So here I am, car 1 sat on the start line of hill 1 with 30 odd people watching, some filming, to find out if the car had any promise at all. The hill came in two parts: a steep bumpy climb followed by a tight corner and a steep bit with a bump in it to climb at low speed. First part went OK, but had a good run up so I wasn't expecting to get stuck there, first corner…. no idea where the corners of the car are…god this steering racks slow…what's this?? 8 turns lock to lock!! creep down hill swing lock over to the other direction… no idea if it will clear the posts… fingers crossed..clutch back in build a little speed…now on the steep climb…will the engine do it?? gently gently winding the lock off…come on tiny 16 valve engine have some torque….ooowww good stuff engine pulling well and the blancmange suspension which was rubbish in the road is soaking the bumps up like a boss…swing the lock hard right for a clear….got a round of applause from everyone watching, but in that moment I knew all the work and money had paid off.
The other hills went well too but the field was drying quickly. The car felt good on the climbs, but I was rusty and the car felt odd. I always thought I was driving the Mini to its limits most of the time and I've failed hills in places and watched others cruise over the part I was struggling with, this time the car felt like it was climbing really well but me not knowing it's behaviour or where it's corners are, the ability to be accelerating out of a corner knowing full well the front will miss the marker posts at full lock and losing momentum for the next climb.Yet I was still doing well. got gifted about 8 marks by my nearest challenger as he drove out at 12 gave me a little breathing space.
Much to my surprise by the end of round 1 I was leading the class, in my head I had set myself a target to be happy to be 2nd in class and somewhere near the 2020 national champion so to be leading was a bonus.Round 2 tweaked versions of the round 1 hills, bit more confident having done well on them already and that little bit more familiar with the new car. Trevor managed to pull 4 marks back on this round which was worrying!! Running a small CC car means you get 12 PSI in your front tyres, a 1600 runs at 16 PSI but the field was dry now and steep and my tiny engine was struggling to pull me up the steepest parts!!
After lunch and with the classes running reverse order we all set off again, the first few hills should've been easy enough to clean, but not knowing where the edges of the car are i just brushed a few poles and dropped 4 odd marks, this was worrying as the guys behind would quickly overtake me if I kept messing up. Thankfully hill 6 served up a nasty split by the 6 marker, the Alto really showed me its potential here. I don't think the Mini would have done it, getting over a slippery bumpy corner under a tree with ease to recover the grip and carry on up the old well worn tracks.One thing that I was noticing on the steepest parts was the lack of power and torque, it was pulling itself up OK but didn't feel like it had much more in it. One of the hills had become a tight left hand turn and a very long steep climb, I was burying my foot in the carpet and  scrabbling my way up like that if the section had been longer I do wonder if I could just run out of power completely!! Managed to pull a few back on that round and hang on to first in class.
Round 4 was a slightly altered version of round 3 managed to get round without hitting any posts, only stopped by the steepest of the steep, dropped the second lowest marks of all the FWD cars funnily enough only to be beaten by a classic Mini running in class 2!!
Ended up first in class and 3rd overall missing out on a fairy tale 1st overall first outing by joint winner from class 3 who both didn't drop a single mark all day. Was still very happy with the day and how the car went, feel I could have been a lot better. I don't know how many marks I could pull back if at 100% felt about 60-70% most of the time. Took many years to get the combination of me and the Mini to work, hopefully it will not take that long again as I guess I already know what I want to do, just a case of syncing with the car to make it happen.
Great day all round,
Rupert North