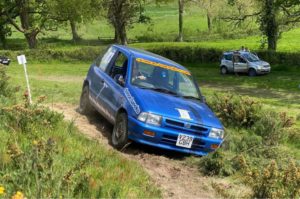 The last weekend of May brought the national  trials championship to rounds 2 and 3 right down on the south  coast with Saturday in Devon and Sunday in Somerset.After what seemed like endless rain for weeks running up to it finally the sun, and summer broke out from behind the clouds on the Wednesday afternoon in the run up to two days trialling.
I had loaded up Tuesday evening and headed down to Portsmouth to break the long trek down up and visit my southern based family after 18 months of Covid restrictions. You must check out the fa fa fa slot machine free play. Thursday and Friday on the south coast were red hot and everything seemed to have fallen into place for the double header.
Up early Saturday morning for the mere two and a half hour drive to the venue with the last 2 miles on the narrowest of narrow country lanes I arrived at the venue. Those tiny lanes cause me no end of worry, I find it really hard to back the trailer in a straight line using the mirrors on the van……god knows what would happen if i met something really big and had to back up!!
Windwhistle MC had laid on 4 rounds of 8 hills for the 33 entries to try their skills against.This was only the second event for my "new" class 1 car a 1.0 Alto GL, the first event had gone well with a first in class finish in dry conditions but despite the sun the venue was covered in long lush grass which never dried out all day. After taking a narrow lead on round 1 and being able to extend a little over the second round to a class lead of 6 meant I could relax a tiny bit, one bad mistake and the leads gone, but if i had a bad climb and dropped a few it would put me back too far.The light Alto seems to be better in wet and slippery conditions than on the dry which should be good for a UK based sport, we get more wet events than dry.
After a nice lunch basking in the sun we headed off into round 3, revsere class order this time which meant I was first on, as normal the clerk of the course had been busy while we ate, finding fresh grass and new challenges for us. Being first on, means you get the worst of it, having to flatten the long grass down and show other competitors either the right line which works or a wrong line that doesn't!! Once half a dozen cars have been up the long fresh grass it definitely gets easier.I was happy enough upto hill 8 to have been able to keep in touch or even ahead of the others, then a poor climb on hill 8 cost me a couple of marks, not a problem…onto the next round.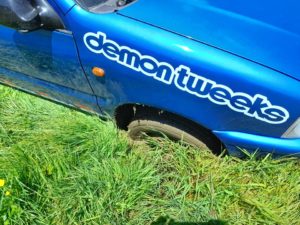 Backing out of hill 8 I managed to find a sinkhole…not a big one literally just a couple of feet square of just a slit… covered in grass!! The car dropped in over its 13″ tyre and rim and that's where it stopped. Made the mistake of trying to move it before getting out and realizing how bad it was.And friendly local in a beefed up landrover pulled us out but the little car was  from happy. Trying to move forwards was met with lots of bangs and cracks, sounded like the diff was eating itself or if i was lucky just a drive shaft. The steering was locked solid and it looked like game over.
Did manage a few yards in reverse and the wheel turned, then tried going forwards, it was sort of moving a few knocks and bangs, not a happy car at all. Limped it carefully to the top of the hill and grabbed a jack and a wheel brace off a friend. Took the wheel off and was truly gob smacked by what greeted me.The whole inside of the wheel rim was solid with mud and small stones, you could see bits of broken stones mixed in with the mud, the brake caliper and disc were not visible at all.I wish i had taken a picture it was quite the sight.But times ticking, the rest of my class and the event was moving on around me and they were not going to wait long before the hills would be packed up. I do recoil looking at it thinking what the hell am I going to do with this?? Scooping handfuls of mud out the mechials and off the inside of the wheel rim sorted it out, at least things were going round, it had pulled the drive shaft gaiter off so did the last round with it inside out, so the mud could at least get out of it.
If you do fall behind people are nice and let you jump in the queue for the hills and I caught up with the rest of my class towards the end of the round.Bit of a worrying moment and can say it never happened before.But all well that ends well and managed to extend my class lead to go on to win the class by a half decent margin.Once the event was over I took the car for a few road miles to see if everything felt OK, thankfully it did. I Met a massive tractor whose wheels touched both sides of the lane, glad I was in the Alto not the van.
All in all a great days sport with a decent result to boot, off the hotel for a shower some food and drink and to chat with the other trialists who were staying there too.
Sunday's event was Woolbridge MC Golden Springs Trial, which was less than 15 minutes from the hotel so a nice lie-in and breakfast meant I turned up to the very large 4 field venue not feeling tired at all, normally it can be a 3 hour drive.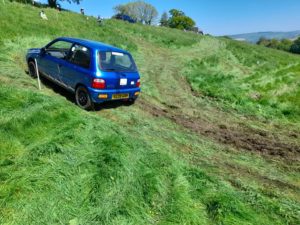 Again four rounds of 8 hills were ahead of us, this venue is large and steep and despite not being that far (only a hand full of miles) not a different part of the country the grass is short and slippery.A large class of 13 meant that potentially the winner could be coming from it.Off to the hills the first one looked hard long and steep with some big bumps to boot, the little Alto soaked them up like a sponge and the grip felt good, even on the first round which is normally the slippiest.By the end of the round something had happened….something that hadn't happened so far….I wasn't leading class 1. Reigning national champion Trevor Moffat had pulled a 1 mark lead over me!! The next round with the hills altered a little was worse, as the grass dried the hills became steeper, but not little short sharp bits of a climb long steep persistent climbs.By lunch I was 6 behind but I knew the hills were not getting made easier and in the blazing sunshine things were going to get tougher.
Round 3 was certainly a bit of a disaster, dropping 19 to the lowest of 6! my efforts were fifth best in class, this was an eye opener after a fairytale start to the season on the first two events I was hemorrhaging marks badly.The tiny engine just doesn't have enough low down torque to keep the car moving and the grip wasn't such that you could floor it and scrabble up the sections.It is hard to find a car that excels in all conditions and on this event i found the Alto's achilles heel.
Round 4 was a little better, my score was good enough for third in class on this round, only losing marks to the 2 1.6 Corsa sports which normally do very well in class 1. I had to quickly learn to adjust my driving style and take some interesting lines up the hills. If there was a run up I was taking it!! Well off the conventional line but it seemed to be working, really just driving to keep the speed up.Not sure marshalls laughing at my shuddering dashboard is a good sign, but that's how most the sections ended in a slow shudder until the engine finally stalled out.
A tough day! Did enough to hang on to second in class 1, which on a day that certainly didn't suit the car I will take as a small win in itself.A great weekend away, I do like the weekends away, cuts down on travelling up and down the country.Guess it's only me hoping it rains for the rest of summer?? Prepare for a heatwave……
Rupert North