Welsh weekend 9th and 10th April.
After the long winter break from early November till the start of April I was eager to get out and have a bit of competitive fun again.Car trails is a very low prep form of motorsport, so much so I put the car away after giving it a good wash in November and only moved it twice in and out of my garage for a matter of a couple of hundred yards before I called it ready to tackle the 2022 season. I had to get an MOT sorted out but the car, a 1999 1.0 Suzuki Alto, is in good condition so it went straight through with an advisory on sticking front brakes. That took less than an hour to free up and re lubricate.
Minimal preparation complete and loaded up Friday evening I was ready for the early start that was the 2 hour 15 minute drive to North Wales for the Derwydd Trail put on by Bala motor club in the Corwen area of North Wales. A hassle free drive on a bright sunny spring morning with views and countryside I haven't been out in for a long time passed quickly and it was nice to catch up with the regular national trialling gang and this time had a close friend from Yorkshire joining me  after a few years away. After the pre event  fromallites were dealt with off the hills we went, I was a little concerned with how rusty I would be, up in these parts of the country (Yorkshire) winter time events are almost non existent while down Somerset way they are lucky enough to have a well supported full winters championship. Car trialling takes a certain feeling which can come and go, and the more you do the better you get to some extent, I do a fair bit of it, whereas someone who does 2 or 3 events a year will most likely lose the gentle touch needed on occasions.
So off I go….I thought I had made a bit of a hash of round 1 dropping points here and there, miss judged my lock and hit  posts twice!! And being first on I got to show everyone watching where particularly  slippery bits were by spinning up and stopping by something like a 6 or 7 on a hill which would give you an easy 2 or 3 if you got past that part. I found myself laughing at my own rusty performance. I knew it was going to be a struggle and I wasn't wrong.Thankfully the damage to my score sheet wasn't as bad as I feared and we headed to round 2.
This was a lot better, cobwebs now blown away. I had a bit of a feeling for it  again as I climbed  the 8 hills set out with quite a few less marks than the others in my class and in the drying conditions on a nice spring day all was good in the world as I took the class lead at lunch. Lunch was a good time to catch up with everyone again, trade tales of woe and enjoy some proper butchers burgers courtesy of the on-site catering. The field had been wet and dewey overnight and the ground was still fairly sodden which had been cut up a bit from the first 2 rounds, It looked like it was beginning to dry out and the clerk of the course had adjusted the hills to make them a bit harder while we all had lunch.
But….as the lunch break came to a end a dark black cloud sneaked up on us, we set off to the sections in the dry, and they must of been 300 to 400 yards away by the time the cars had reached them the heavens had opened, but not rain, hail , like a cloud burst of hail. Everyone hid in their cars till it passed in no more than  around 10 minutes. The ground was white in places with balls of ice left behind from the hail. It was quite impressive.
Marshall returned to their positions and everyone got back on with business.I was having another good round which just got better and better and the ground got wetter and wetter all the hail was melting and saturating the already muddy ground. Moving between the sections was beginning to get difficult. Watching an experienced trialist struggling to move forward was a sign things were getting too slippery.My car would appear to love the mud but when you have cars sliding for 100 yards with the driver merely sitting as a passenger it's time to call it a day. Which is what the clerk of the course was forced to do. You can't wait for the accident to happen then call time on the event. That heavy hail soaking in had taken its toll.
A bit of luck though as everyone had managed to do enough hills to make the event count as a round of the MSUK and BTRDA championships. Back down in the paddock area everyone was in an upbeat mood considering what had occurred.After a couple of showers we were back to a nice spring day again as the results were read out. I had the lowest dropped score of the day in the lottery of conditions that was round 3, I won my class but ended up missing out on the overall win on the index scoring which pushed me down to 3rd overall.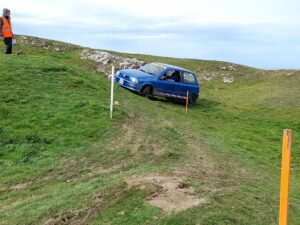 An enjoyable day cut a round short by the weather, nothing anyone could have done. When myself and Sam , my friend form Yorkshire, were planning ahead we planned on camping, you know with it being spring and sunny. And that evening it was clear sky blazing sunshine all good.We had arranged to have a meal with a group of trialling friends at a local pub which is one of the nice things about the double header weekends, rather than having to haul home you get a short drive to some sort of "digs" and enjoy the evening. We had wild camping, round the back of a cracking pub with a novel ford'ed river crossing to get to the campsite. Makes for a good picture/ video.Once we were all set up we had a few in the campsite pub before heading out for the meal.
After tea we got our heads down for the night, it felt a little chilly but we were in for a shock in the morning! The clear sky had made it cold…not a little nippy but bloody freezing!  Minus 4 and that was at about 7.30 once the sun was up and I wondered if it was colder than that. Not camping weather.A heavy frost and iced up cars. We packed up quickly and headed off for day 2 the Clwyd Vale event. It was nice to be in a warm van after the chilly night.
This event is always challenging and the site is very lumpy and rough in places, I always enjoy myself here, normally I'm in the Mini which is built like a tank, it can take a knock and has loads of lock and a good handbrake. The Alto has a very flimsy feel to it, the event got cancelled last year so this was my first go here. Out to the hills we went, things were going OK from the outset. A costly mistake on hill 1 from my closest rival handed me the type of lead I could only dream of, we are often separated by a handful of marks.Managed to get through the first round unscaved and into the second.
For every hill I lost a mark on I pulled one back on another this continued for the rest of the event which keeps it interesting and holds your focus. one big mistake from me and the class lead would have been gone. But I held steady all day and finished first in class.
The big news of the day was the mammoth battle in class 3, the RWD class with the lead swapping I think the last section of the day. One man's glee is another man's disappointment and anyone who does anything competitive knows that feeling.
So 2 class wins for me, but not great national championship points two 4's and the worse news championship wise is that the same guy, Gary Preston, won both days which gives him two 6's. The MSUK points are hard to come by!! All in all great to be back out on the fields having a laugh.Very much looking forward to the next event.
Rupert North